April 21
Viewing Chipman from the top of Bow Elder several times this winter, gave me the urge to ski the south face. Weather and snow conditions indicated a nice day for doing so.
Location:
I started at.White Pine parking climbing to the Red Pine ridge traversing to the shoulder of the Pfeifferhorn, descending a short distance and traversing west. Ascent and descent of Chipman south facing to the flats.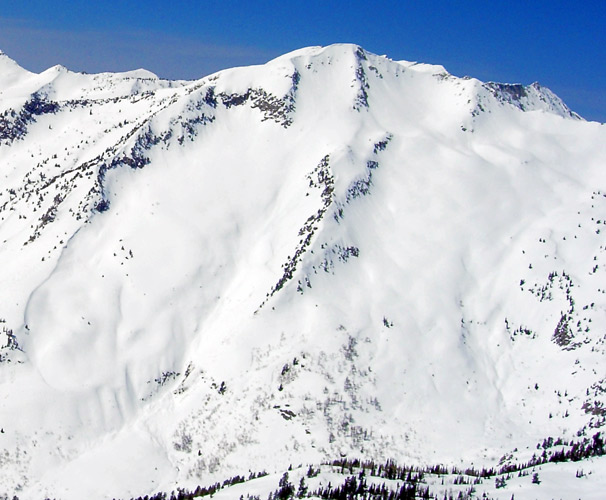 Snow:
A good overnight freeze along with the southerly winds preserved the snow. The winds also hampered the melt off on the high elevation southerly faces. When it did melt, it went off quickly. A point release wet slide was cut out, first turn off the top of Chipman. The last little storm hadn't been cooked down, with the slide running on the old surface, firm crust. That ran about 500 vertical feet spreading as it ran to about 50 feet. It didn't quite make the lower roll or it would have run at least twice that distance. Rollers were also initiated checking the slope while skiing the bed surface.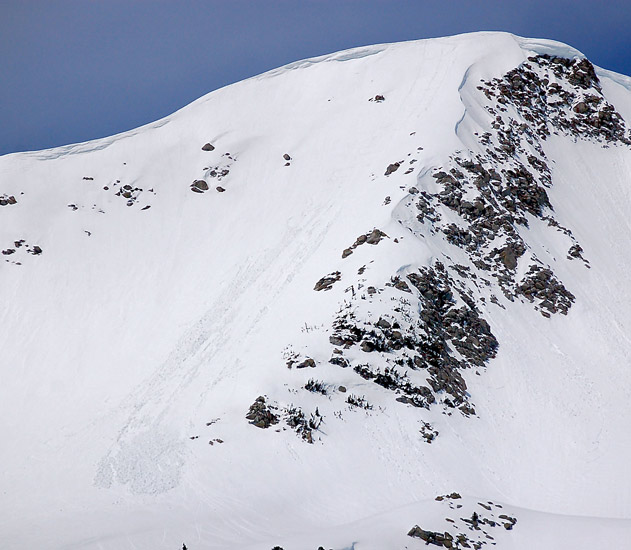 Below the slide the new snow had been cooked off and corn snow was forming nicely at 11am on south facing.
Some point release wet slides of good size were noted on the west facing Box Elder nw cirque. A couple of additional wet slides ran off the east facing in the cirque, below the cliff band, as the day heated up.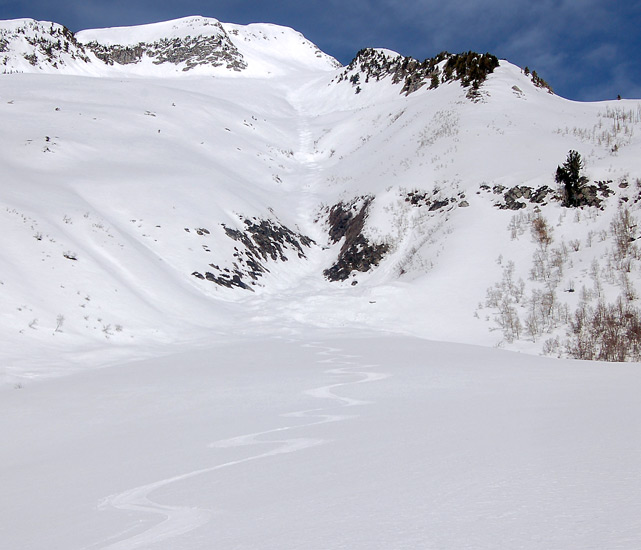 Weather:
It was a bluebird in the morning with winds from the south along the ridges. Those decreased as it heated up and high clouds began forming. Hot in the afternoon.
Ascent back out of Dry Creek to the shoulder descending Maybird chute and traversing back to Red Pine and descending.
Snow remained supportable into the late afternoon on all aspects. Damp consistent powder was found on north facing around 4 pm.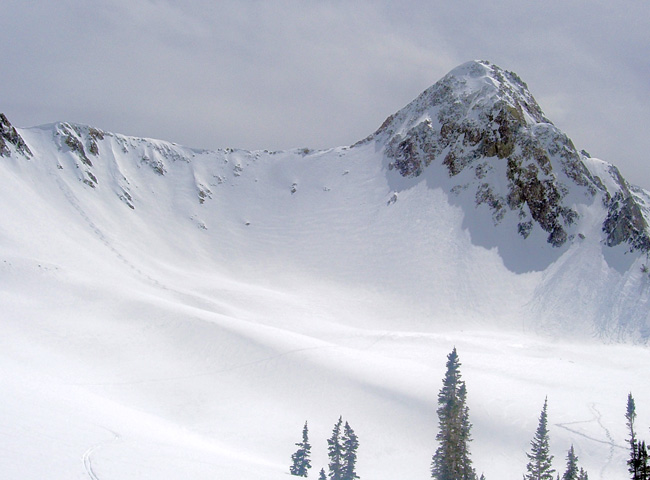 Bottom Line:
The supportable crust remained for another day. I'd expect it to break down somewhat, with the forecasted higher overnight temperatures and marginal refreeze. I'd not expect an increase in wet activity, especially into deeper layering until late in the weekend as the no freeze cycle continues.
---