March 1
Location:
Started at Spruces campground ascending to the top of Reynolds. Descended the northeast facing to the flats.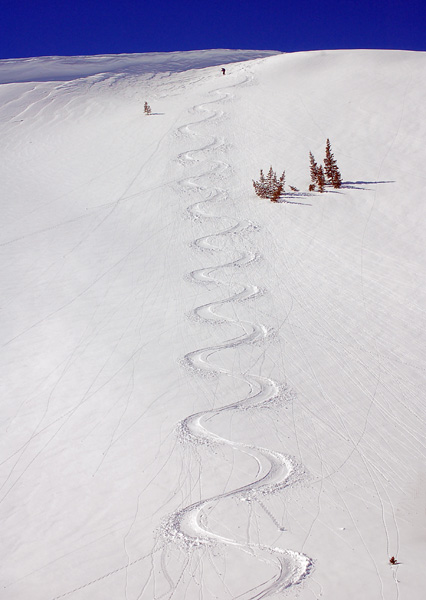 Snow:
There was a couple of inches new snow over a mostly supportable crust in the areas traveled. The crust would become breakable at times, mostly on aspects exposed to the sun, east facing. The shady slopes had a supportable crust down to around 7500 feet. The steeper slopes would sluff within the new snow but these lacked any punch and were skied through repeatedly. A couple of wet slides had hit the Millcreek road, probably the day before yesterday. One on the north side and one on the south, both a little ways above Elbow Fork and both short and steep paths. No other activity noted.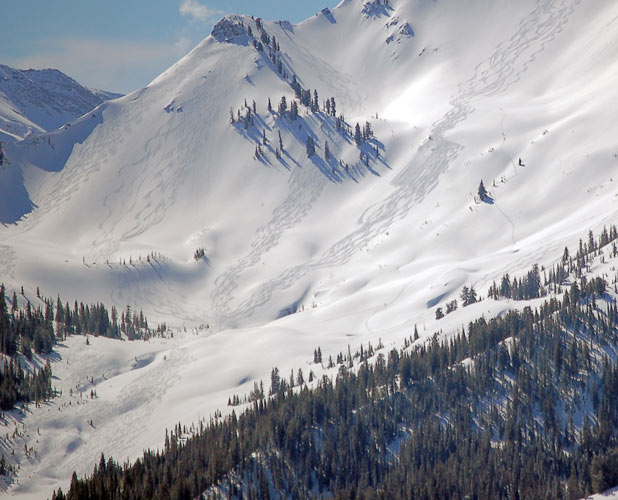 Ascended and traversed over to the top of Soldier Fork, descending the north facing to the flats. Ascended to the top of Wilson Peak. Descended the north facing Wilson Glade traversing and descending Bonus or Depth Hoar bowl continuing the descent down and out Millcreek.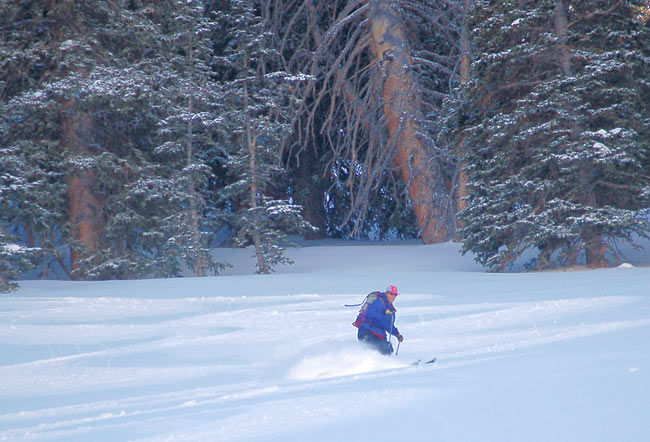 Weather:
It was a bluebird with almost no wind and moderate temperatures.
Bottom Line:
Snow is stable. Wet activity would likely pose the most hazard but would be limited unless rapid warming heated the shallow refreeze on the off aspects and at lower elevations.
---
March 2
Location:
Started at Mueller Park, ascending the pipeline to the ridge, continuing to about the 8500' level. Descended the southwest facing a little over 1000'. Ascended west facing back to the ridge, descending northeast facing a little over 1000'. Ascended east facing to the ridge descending west facing till the snow ran out back to Mueller.

Weather:
It was a bluebird. Temperatures were mild and winds were light to non-existent.
Apparently, not the case in the tri-canyons, since the heli joined me in the Sessions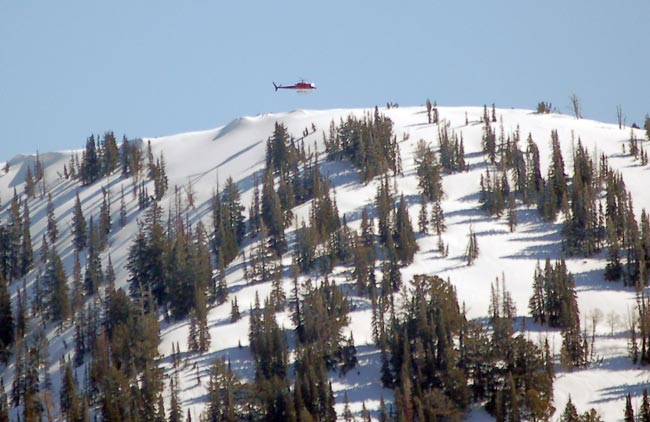 Snow:
The snow was well frozen and supportable from 5500' to the highest elevation reached at about 8500'. I found something resembling corn on southwest facing around noon. The north facing had an inch or so of dense snow over a variable old surface, including some thick rain crust. There have been at least two slide cycles, visible, from the last unstable periods. One of those produced fairly substantial slides with running distances over 1000'. Timing on that would be unknown, however, the bed surface was holding less than 6 inches of recent snow. There had also been a good warm up- rain event? With widespread clinkers on the shady treed slopes.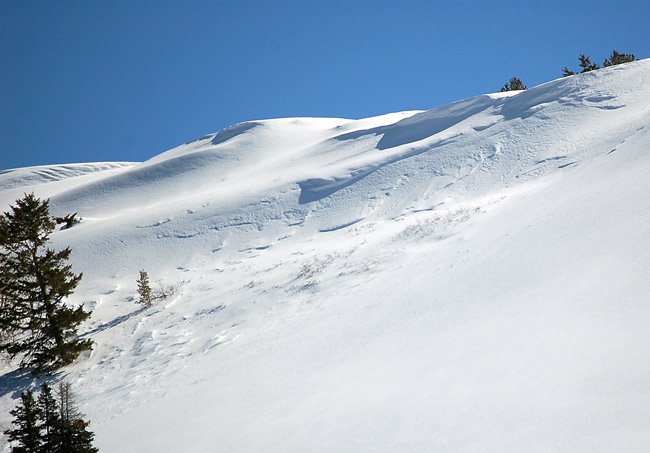 Bottom Line:
Contrary to the latest rumors, I have found supportable snow at both mid and lower elevations for the last couple of days with wet slide activity non-existent since Monday.
The snow in area traveled through today is stable. It may or not support a substantial load, depending on bonding old with new. All old surfaces have good potential for producing long running slides if the load is achieved since they are hard crusts.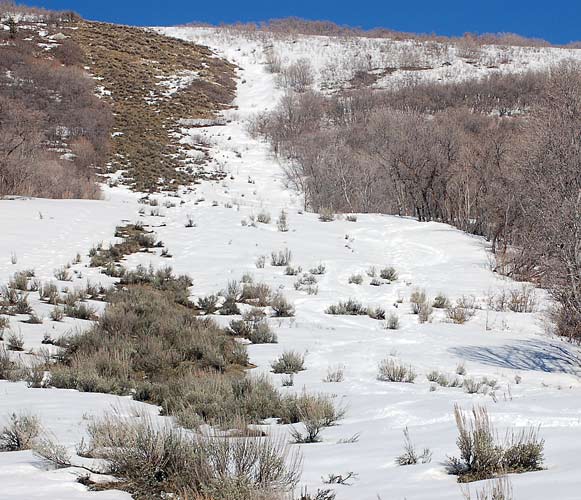 ---