June 4-5
June 4
We've had a wet and warm spring, with just a few days conducive to longer tours. The weekend looked good and I had partners interested.
Saturday, the super tour from White Pine parking out Bells was the planned destination.
The first obstacle was crossing the debris pile left over from the January slide cycle at the bottom of Scotties bowl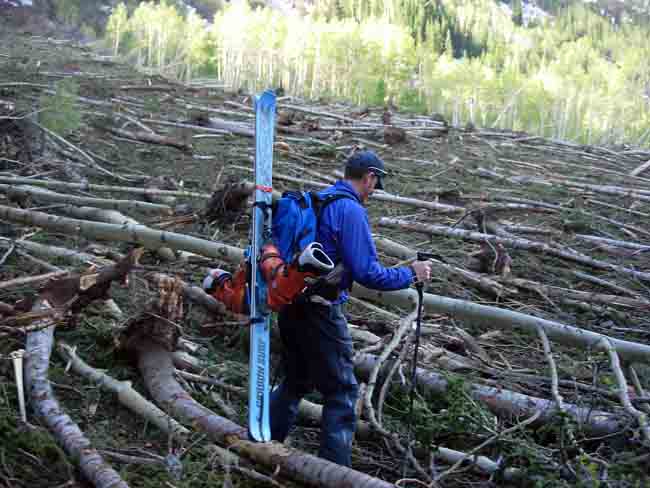 After the debris crossing, finding the bridge to access Red Pine trail, boot hiking for a mile and skinning outtta the drainage we traversed across DRy Creek and skinned to the summit of Chipman. Looking back shows plenty of snow at upper elevations.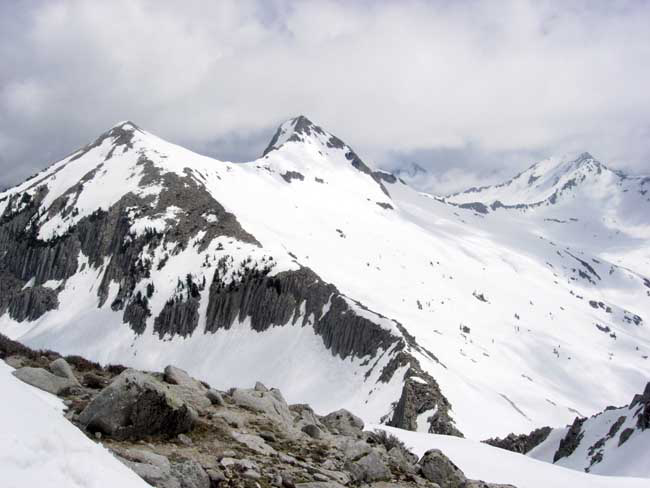 My partners didn't want to do the up and down traversing over to gain the top of Thunder Bowl, so we skied down into upper Bells.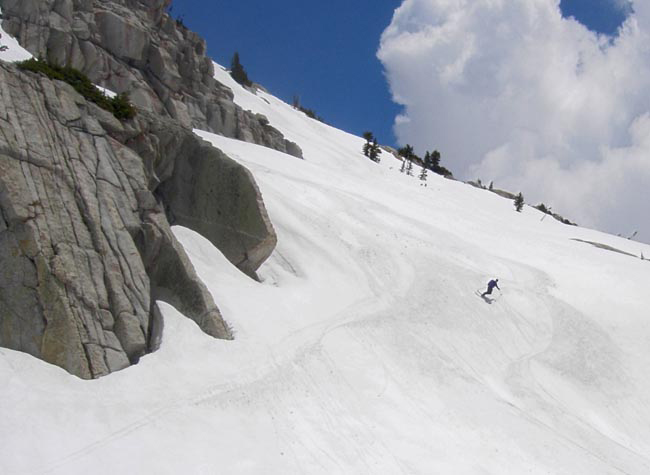 DJ and his nephew were on split boards, with the new Voile mountain gun shown in use.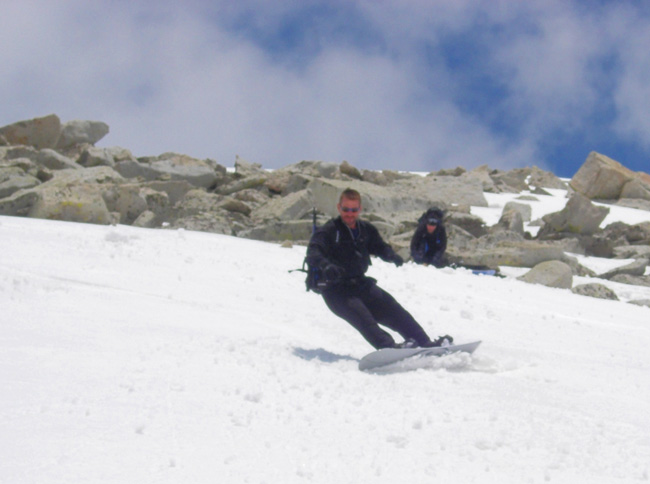 After the upper bowl, there's a lot of short little pitches to ski eventually ending at the springs, where skis and boards were removed for the long hike down and out Bells.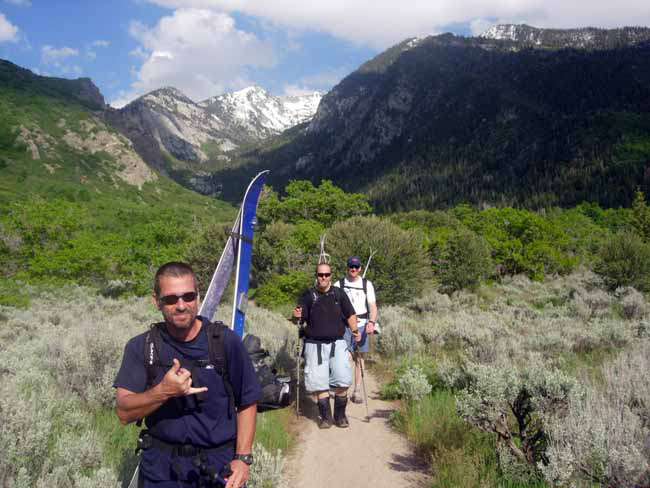 June 5
I'd made plans to go to Timpanogus prior to the Bells tour, so although I was a bit tired, the plan was carried out. At first the thought was skiing, but since one in the party didn't, we went for a hike, except I had skis. Starting from Aspen Grove, we almost immediately encountered debris from the winters' slide cycles.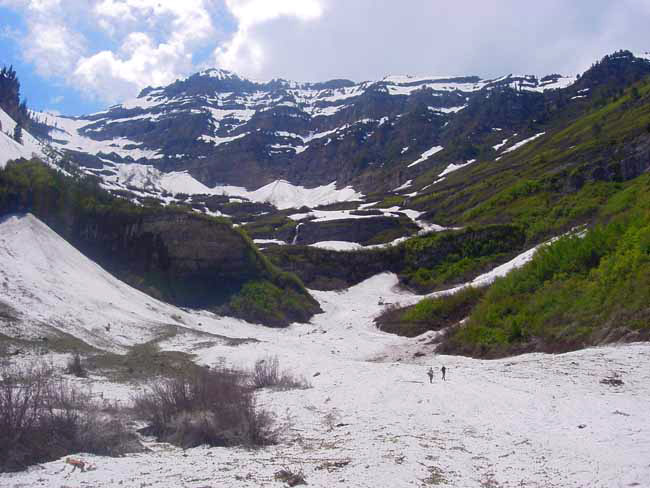 We hiked up Primrose cirque to the ridge above passing crevices, glide cracks and bergsgrunds along the way. Continued over to Emerald Lake finding, not only no lake, but the Emerald lake hut was gone, buried under the snow.
I skied back down meeting my friends, a coupla cuties, at the lower snowfield. They'd both taken sliders, able to self arrest and though a bit un nerved were still smiling.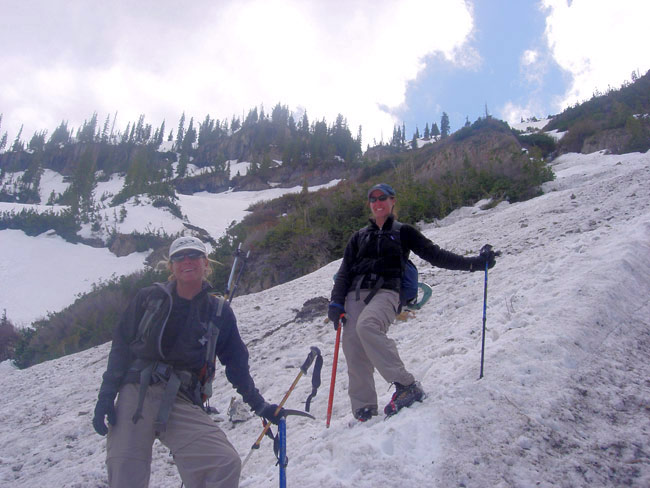 A view of one of the crevices encountered on the lower snowfield. There was a snow bridge crossing, without exposure so...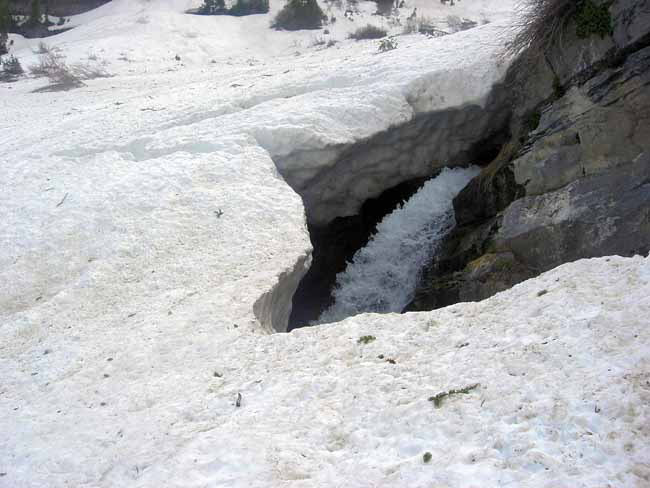 I skied it, with a coupla photos taken by one of my friends.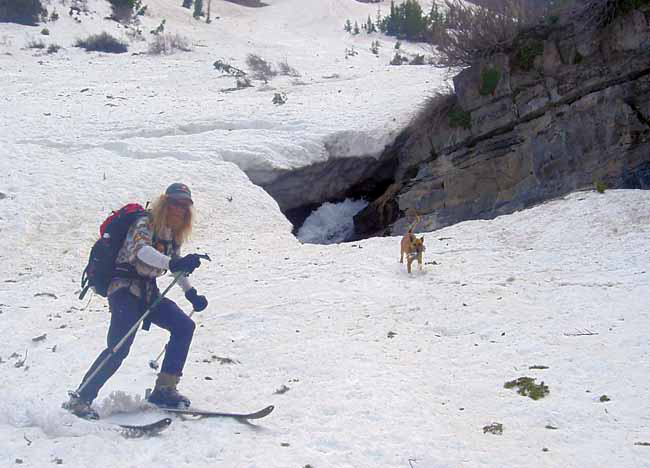 Of course my good dog friend, Sheeba, was right beside me, with her usual found stick.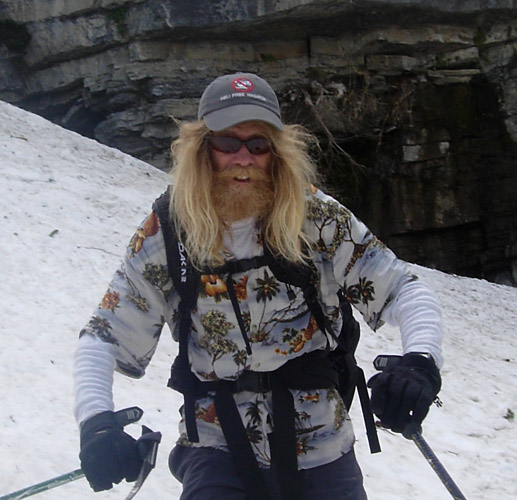 A close up shows how ugly I am and also shows a little intimidation from the crevice, with a rare whippet sighting.
---