Decmeber 26
Area:
Gobblers Knob
Elevations, slope angles and aspects:
6300'-10400'. Angles to 40°, north and northwest
Avalanche activity:
None observed. Attempt at cornice kicking ended without results prior to breaking a leg.
Slopes skied:
Main face of Gobblers from the top, down the middle, out Porter.
Snow surface and conditions:
Damp dense snow to around 9000', above that there were pockets of dry wind buff but, most was scoured and crusted from the west-northwest wind.
Weather:
Mild temperatures with the trees dripping and skins icing at lower and mid elevations. Increased wind with elevation gain, gusting into the 40+ mph along the upper ridgeline.
Snow pit:
Done far enough off the ridge to provide representative information. Up higher the snow pack is 12" to none depending on strength of the wind.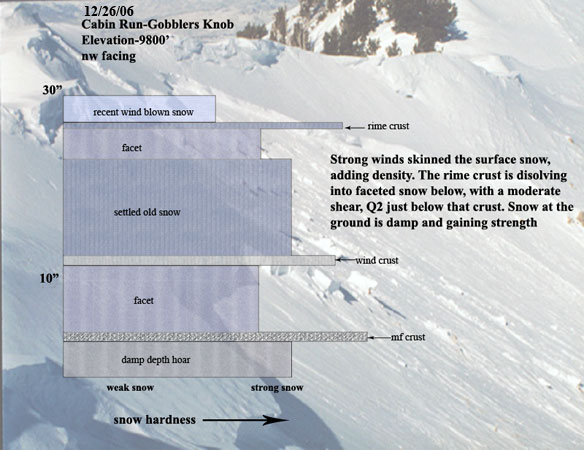 Evaluation:
The snow at lower and mid elevations saw good settlement, with much of the near surface faceting asnd surface hoar eliminated. Strong winds created cornices and potential hard slabs of unknown depth at the upper elevations on easterly aspects, scouring the west and northwest facing. The cornices were large but, so hard they were immobile. New snow bonding would be generally good, with some variability depending on wind effect. Concern would be from hard slabs over faceted snow, triggering potential unknown.
© wowasatch.com