December 9
Area:
Mid BCC
Location:
Argenta, Kessler, Cardiff.
Elevations, slope angles and aspects:
7'000' to 10'600'. Angles to 50°, north, northwest, northeast and west.
Avalanche activity:
Sluffing to the ground on Gods Lawnmower on upper Kessler off the rocks. These were not wide nor pack much of a punch. Shallow depth hoar sitting on rocks. No other activity noted.
Slopes skied:
Northwest chute off Kessler down Argenta, Gods Lawnmower fro near the summit of Kessler, northeast facing into lower Cardiff.
Snow surface and conditions:
Surface hoar is well developed near the creek extending a thousand vertical or so up slope.
Most of the snow from the base to summit of Kessler is faceted held together by the mid November storm which retains a 1 finger density. Most of the snow at the ground has frozen up. Snow just above the ground is depth hoar or faceted. Depths range from 1-3'. Deeper areas have wind crusts and are more solid. Shallow areas covering most terrain are sandboxing with developed facets. Some weak sun crusts on both east and west.
Coupla photos of hoar frost near the BCC creek,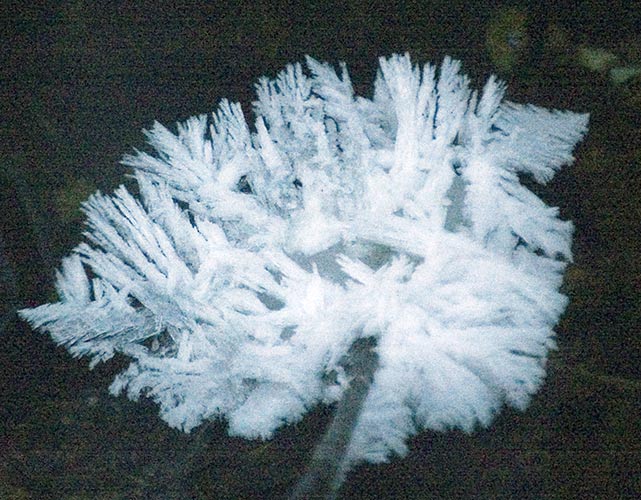 rhimed, with defined feathers.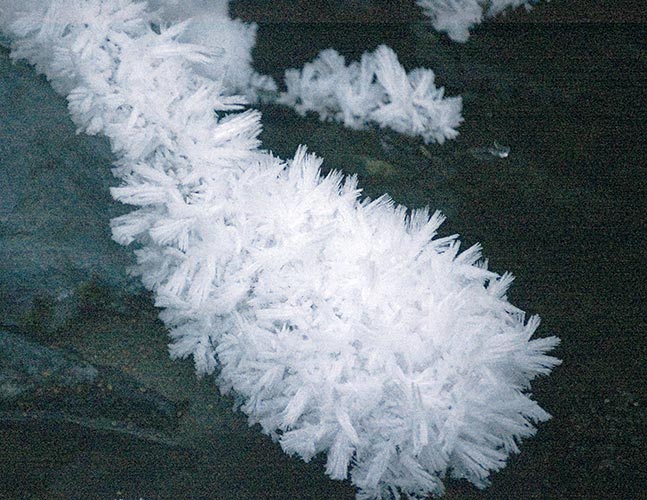 Weather:
Continued mild temperatures. Saw pluming off the high peaks from morning westerly winds. Felt a little wind at times along the ridges later in the day, less than 10mph.
Snow pit:
Mostly rotting.
Evaluation:
Recrystalized snow rules the pack in the traveled area. A significant storm may produce some avalanching especially in areas receiving winds to create slab. Forecast totals at present would not indicate enough load for a widespread problem. An increase of collapsing in the flats and meadows, where surface faceting seems more pronounced would be a good indicator of potential, if we get some snow.
© wowasatch.com