April 5
Alta guard station, Cardiff, Mill B south.
Elevations, slope angles and aspects:
6000-10800', angles over 35°, all aspects.
Avalanche activity:
New snow surface sluffing, both natural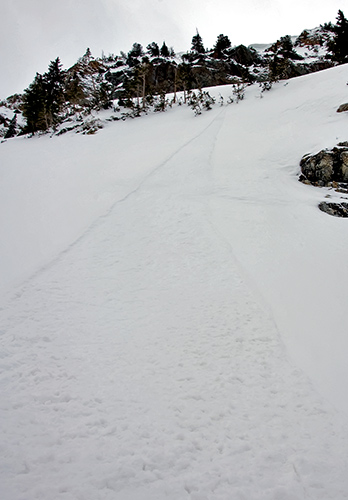 and ski cut, limited in scope to steep mostly east facing. Ski cuts would also initiate very shallow localized new snow slabs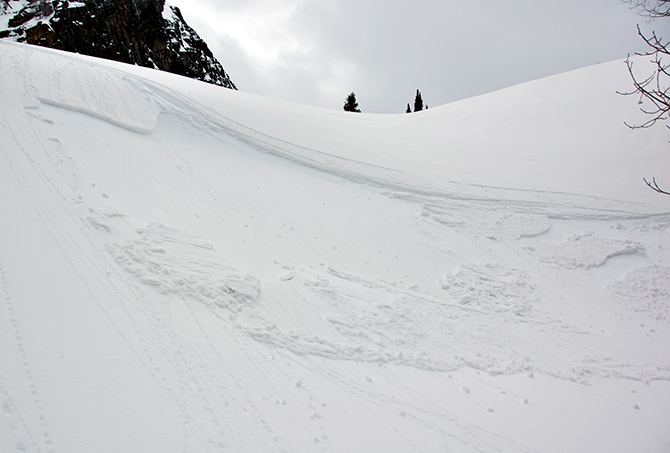 on break overs 35°+. Pictured is mid elevation in Mill B. There was a lot of older wet activity, including one full depth slide on the rock slabs just north of Lake Blanche.
Slopes skied:
Cardiff bowl north facing, Upper Mill b south, Monte Cristo bowl and Sidewinder in Mill B.
Snow conditions:
One inch of dense new snow was found at the trailhead. That amount increased to an optimistic 2" in the upper elevations.The underlying surface was damp spongy old settled snow on sheltered north facing, with crusts on all other aspects, both supportable and non. A solid refreeze prior to new snow was non-existent and damp snow was found on all aspects, even upper elevations. Underlying snow remained supportable, even at lower elevations.
Weather:
Foggy to overcast skies with mild temperatures. Winds from the wsw, gusting to around 20 mph, especially in exposed upper elevations.
Evaluation:
A good refreeze would solidify damp old and recent snow. Lacking the freeze, instabilities should remain within upper layering, ski cutting remaining the tool of choice. Hand pits, gathering info on the depth of damp snow, should help determine potential for deeper release.
© wowasatch.com