April 6
Grizzly gulch, Silver Fork, Days Fork and Mineral Fork
Elevations, slope angles and aspects:
6500-10600', angles approaching 40°, all aspects.
Avalanche activity:
Surface sluffing of new snow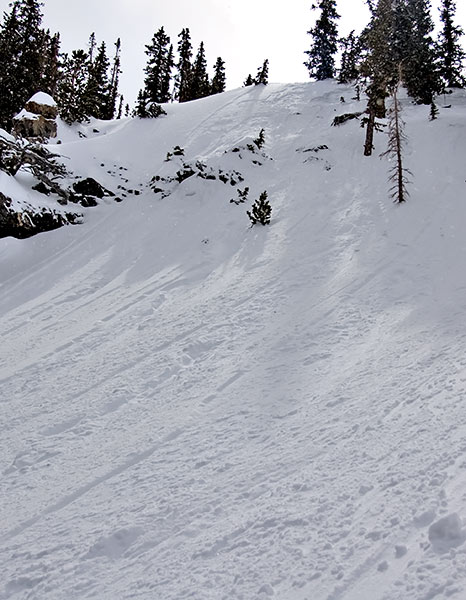 was common on slopes over 35°., easily initiated with ski cuts. Natural shallow sluffs were also noted.
Slopes skied:
East bowl of Silver Fork, north chute entry into Days Fork, Holy Toledo entry to Cardiff and east Mineral, out Mineral Fork.
Snow conditions:
Cool overnight temperatures firmed up soggy crusts from the previous day. Early morning snow showers added 1-2" of lighter density snow to yesterday's inch. Bond at the interface was marginal, with sluffing common. Lower elevations heated during the day and were crunchy in the afternoon, but no wet activity was observed.
Weather:
Overcast skies, with partial clearing at times. Short lasting snow showers drifted through most of the day, adding another inch. Temperatures were moderate. Winds from the west, gusting to around 20 mph.
Evaluation:
Once again, new snow sluffing was the rule. Would expect some bonding from settlement, but sluffing continues to be likely. Future instability would be dependent on snow amounts from the currently forecast larger storm, any wind blowing the new snow into drifts and from any extended period of sun.
© wowasatch.com