April 6
Area:
White Pine parking to Box Elder and return.
Elevations, slope angles and aspects:
7500'-10600, angles to 40°, all aspects except northwest.
Avalanche activity:
Old wet activity consisting of rollers and some surface sluffing. One in Dry Creek, coming out of a rocky area spread to a hundred feet or so, but only within the coupla inches of recent snow.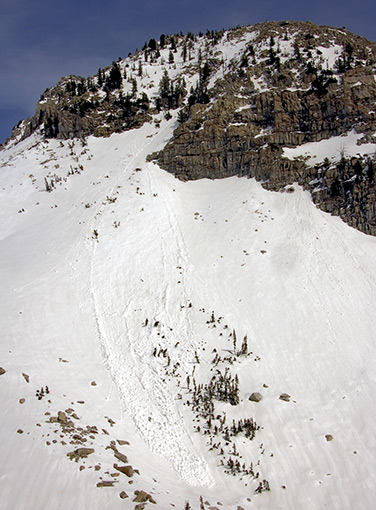 Slopes skied:
South facing shoulder of Pfiefferhorn, north chute skier's right on Box Elder and Red Pine ridge to the lake continuing out.
Snow surface and conditions:
Snow was well frozen softening in a timely manner, with sun and heat exposure. There is little dry snow remaining on the shady side, limited to above 10k and more likely on the northwest aspects. Even in the late afternoon, rollers remained small and surface sluffing was almost non-existent. There are isolated spots that will collapse and crack in very shallow sun pack areas, mainly near rocks.Snow line of south facing aspects has receded to about 8500'
Weather:
Cool in the morning, gradually heating as the day warmed. High clouds and haze by afternoon. Temperatures were moderate and winds were light.
Evaluation:
Snow remains stable with limited potential for avalanche. Some isolated possibility in shallow and steep snow pack area after significant warming.
© wowasatch.com