February 2
White Pine-Red Baldy-Boulder Basin
Elevations, slope angles and aspects
7800-11200', angles over 35°, north facing aspects.
Snow conditions
4-10" settled new snow. Wind and sun have both done a little damage, aspect dependent. Snow is well bonded.
Avalanche activity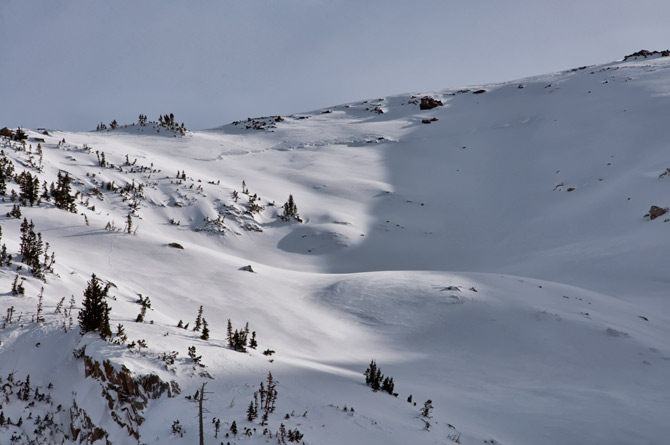 Skied Red Baldy on January 16. At that time, snow in the starting zone was shallow, wind scuffed and faceted.
On the return visit, a natural avalanche was observed, releasing during the storm, January 23-24.
Most of the crown was blown in but, the slide was new snow only, encompassing the entire lookers left side.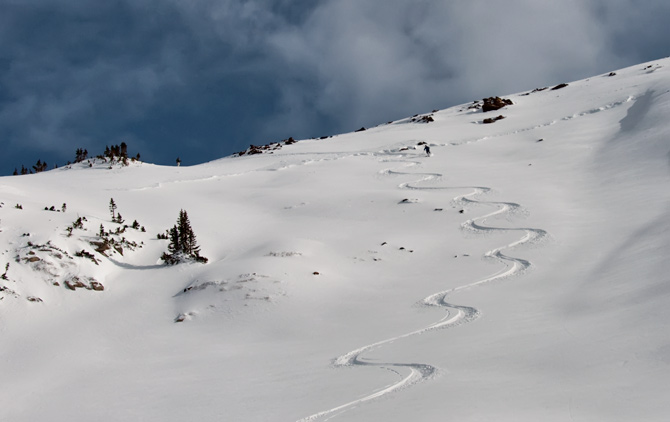 Debris reached the upper flat, spilling over just a bit.
Other activity observed was recent shallow surface sluffing, localized and widespread, aspect dependent, from wind during the storm.
Weather
Partly cloudy skies, moderate temperatures. Winds from the west along the ridges, gusting to about 15 mph.
Evaluation
Healing is progressing.
Potential for deep slab instability localized and less likely as time goes by.
Weather guessers have another little storm on tap so, new snow instability would be dependent on wind drifting and bonding of new with old.
© wowasatch.com