November 10
Alta fire, up Bink's, west along the ridge above Days, descending Toledo bowl.
Elevations, slope angles and aspects
8300-10600', angles over 40°, all aspects
Snow conditions
South and west facing were, for the most part, bare ground. Snow line on north and east facing aspects was between 8500' and 9k. The majority of the snow was capped by a melt freeze crust of variable thickness and strength, stouter and stronger on sun exposed. Faceted snow was found under the crust. Depth was between 10 and 20 inches.
Weather
Partly cloudy with mild temperatures. Wind was from the south, gusting to around 20 mph.
Snow pit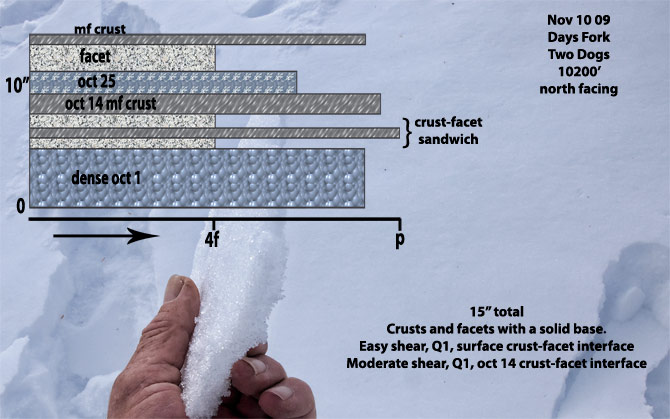 Of interest, the October 14 crust, so supportable a week ago, has deteriorated, with the shear occuring below the crust.
Evaluation
Good stability, all aspects and elevations. Surface crust is likely to support some weight prior to collapse.
Instability from currently forecast? new snow load would be dependent on bond with the crust and snow amounts.
© wowasatch.com