November 16
Brighton, Wolverine, Backbowls, Milicent
Elevations, slope angles and aspects
8000-10400', angles over 35°, all but south facing.
Snow conditions
4-8" over a crusted base. A little surface hoar growing at lower elevation. Notable weakening of the recent storm snow at upper elevation.
Melt freeze crust on sun exposed retaining snow. South facing approaching bare ground.
Weather
Sunny skies, little wind and moderate temperatures, cooler in the shade
Avalanche activity
A few rollers as the sunny side melts off. One crown was observed from the windy period at the end of the storm on November 14.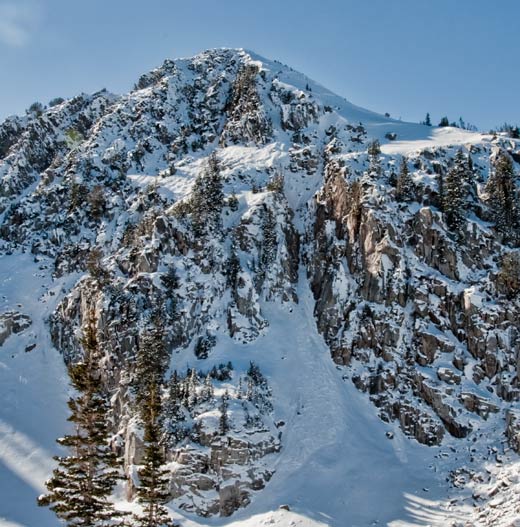 High shoulder of Patsy Marly, east facing. The slide folowed the path of least resistence, with debris in the apron of the adjacent chute to the south.
No other slides were observed, unless the roof slide at Brighton is counted.
Evaluation
Stable snow at all elevations. Surface and near surface snow has faceted on the shady side.
© wowasatch.com