As the only full-time observer employed by the Utah Avalanche Forecast Center, Bob Athey gets paid for reporting what he sees each of the 120 days a year he backcountry skis in the Wasatch Mountains east of Salt Lake City.
"I was going to be a lawyer, but I discovered powder snow," Athey says. "So I went skiing instead, and have been working on a different education."
Part of that education has been in tax law, apparently, as Athey now deducts work expenses from tax returns – meaning he gets to write off new skis, poles, packs, hats, gloves and any other gear he needs to work. It's a ski bum's dream.
"It takes a long time to be a good ski bum," Athey chuckles. "You have to have fairly low goals, too."
His first ski tour was sometime around 1975, give or take a few years – he doesn't exactly remember. In those early days, Athey split his time between sporadic class attendance at the University of Utah and less sporadic backcountry skiing. The erstwhile sociology major earned his degree in 1981, 10 years after enrolling in his first college class.
But it's not his book smarts that made him famous along Salt Lake's Wasatch Front.
Decades of 100+ day seasons have created a legend of the mellow 50-year-old with an old school look. His blond, white and red hair frays out from under a heli free hat and down past his shoulders; his swirling winter beard nips the collar of a plaid half-zip flannel shirt.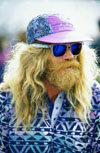 click to view larger pic.
Athey spends at least five days a week, six months out of the year touring in the Wasatch mountains and analyzing its snowpack. But even when pressed, Athey can't nail down a favorite slope or touring area.
"People are so fussy about snow," Athey says. "If there isn't a 100-inch base at Alta, no one goes skiing."
He's not picky about inch depths, and groans when asked about the below-average snowfall this season. The snow near Salt Lake City – even in sparse years like the last few that have plagued Utah with a severe drought – is good enough for a solid season.
Athey started touring on telemark skis because that was his only option in those days. Now he rotates among 10 different setups, from randonnee to telemark to a split snowboard.
Did skiers flock to the backcountry because the gear improved, or did the gear improve because skiers demanded it? Either way, Athey has noticed the significant increase in backcountry traffic.
He claims that he's mellowed considerably in his relatively old age, but he still quickens his speech and peppers it with more obscenity than usual when he mentions high-marking snowmobiles and helicopter skiing operations.
But a few seconds later, he's back to his affable twang.
Rather than maintain any anger toward 'bilers or heli-skiers, Athey simply retreats farther into the canyons, or he'll just ski the terrain before the helicopters set down.
Besides, even though he thinks snowmobiles are noisy and stinky, he realizes that "some people would say that about me, too."
Athey sometimes moonlights by teaching avalanche safety courses in the evenings, but he keeps quiet hours.
Lately his nights have been occupied by fiddling with his first computer, bought at a recent close-out sale. He decided to plunge into technology to better communicate with the avalanche forecast center and to post photos of slides.
Athey's observations help the forecast center determine daily avalanche warnings. But he rarely avoids touring when avalanche danger is high. Rather, he relishes it because there are fewer people. Also, "the best days to learn about avalanches are when avalanches are happening," Athey says.
He has deliberately and safely triggered many avalanches by kicking cornices off the tops of ridges, but he's only been unintentionally caught in a few small slides, including one that wrapped him around an aspen tree.
His most recent close call was last winter when Athey avoided a five-foot deep avalanche by only a few seconds. After he and a friend chose one side of a ridge, the other slope stress fractured, and "the whole bowl we decided not to ski avalanched out," he says.
Athey claims that he's too jaded to describe a perfect day of skiing, and he doesn't use hyperbole to describe the good times.
It's simple and straightforward to him: "Easy trail breaking, face-shot powder, and you make it home to ski another day."
Retiring is nowhere in his plans. A few weeks ago, Athey ran into a friend on the approach to Red Baldy southeast of Salt Lake.
"There were about 10 people skiing up there, and me and old George were the only ones who made it to the top of Red Baldy, and he's 80," Athey says. "If I'm 80 and I still get to do what George is doing, I won't need to retire. He still enjoys skiing, and he's been skiing far longer than I have."
Athey also hopes to continue studying avalanches, but he realizes that the more time he spends in the backcountry, the more likely he will become a victim of one.
But he has a strategy for that concern, too. He calls it the Dirty Harry principle.
"When you stand at the top of the hill and you've done all your stability analysis and you're getting ready to ski, the last thing you ask yourself before you head down the hill is, 'do I feel lucky?'" Athey says.
So far, so good.