November 29
Bowman, Yellow Jacket, Alexander Basin
Elevations, slope angles and aspects
6400-9200', angles over 35°, north, east and west facing aspects
Snow conditions
4-6" new snow, light density, at the trailhead. That amount increased to over 8" new at around 8k.
The base, under the new snow was a crust with variable supportability on off aspects and in exposed terrain. Soft and settled in sheltered and shady.
Sluffing of the new snow on crusted old surface was widespread on steeper slope angles.
Weather
Skies were overcast to foggy. Not much clearing. Temperatures were cool and winds light. There were occasional snow flurries at times during the day.
Snow pit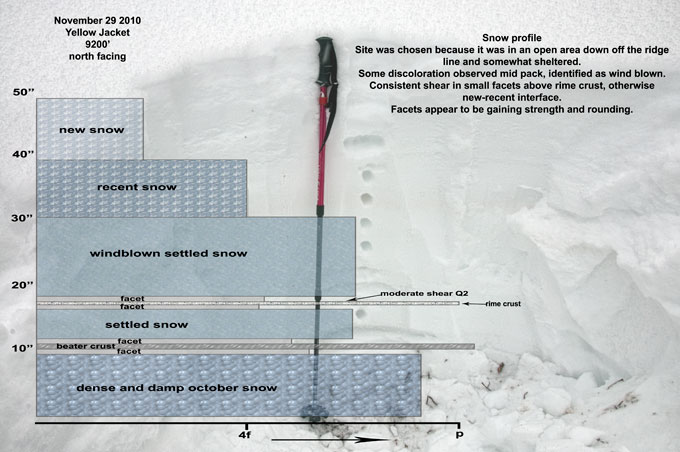 Evaluation
Instability was from sluffing in sheltered terrain. Drifting of new snow in more exposed areas would be a concern, especially those with an underlying crusted base.
Snow pit indicated a gradual healing of deeper faceted layering in sheltered terrain. This may not be the case in exposed areas at upper elevations.
Increase in temperature, more wind and or snow could easily increase instabilities because of the light density surface snow.
© wowasatch.com