Early Season History
Clicking more pictures links will take you to journal pages from the listed day.
Several of the journal pages have panoramas of existing snow cover on shady upper elevations as well as more complete descriptions of snow conditions.
September 30-October 1
Willow-Beartrap-PC ridges
The first storm of the winter season deposited 8-12". That snow was evenly distributed throughout the tri canyons.

Accompanied by strong winds, it allowed some limited skiing in select areas, filled in by those winds.
October 5
Reynolds peak
A second storm on the 5th produced 8-10". Hoping for clearing I walked up Mill D north fork.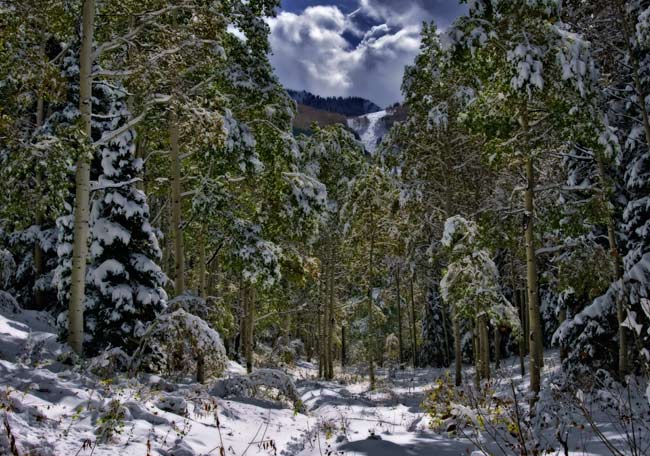 It never cleared. I found a base of 4" or so on the shady side at 9k. Sunny aspects were bare ground under the new snow.
October 8
Cardiff fork
I walked up Cardiff to the Superior ridge, digging a pit in Cardiac bowl.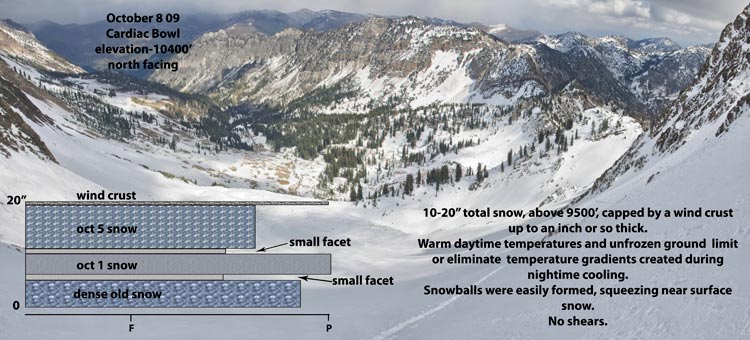 October 13
Porter fork
I walked to the summit of Gobblers Knob for a view of upper elevations in Big Cottonwood canyon. The previous day was warm and sunny.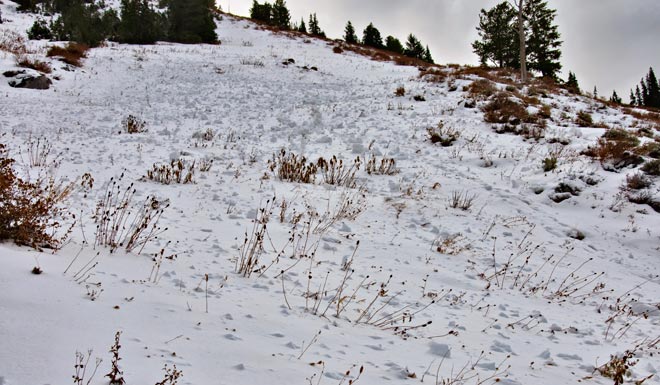 Extensive point release activity was observed on the upper northwest face. Consolidated snow pack of 10-20"
October 17
Mineral Fork
I walked up Mineral fork(Room of Doom)to the pass overlooking Mill B South.Mild temperatures were producing early corn snow on the sun exposed slopes retaining cover. It was short lived because of the sun angle and also because of the horseshoe nature of upper Mineral fork.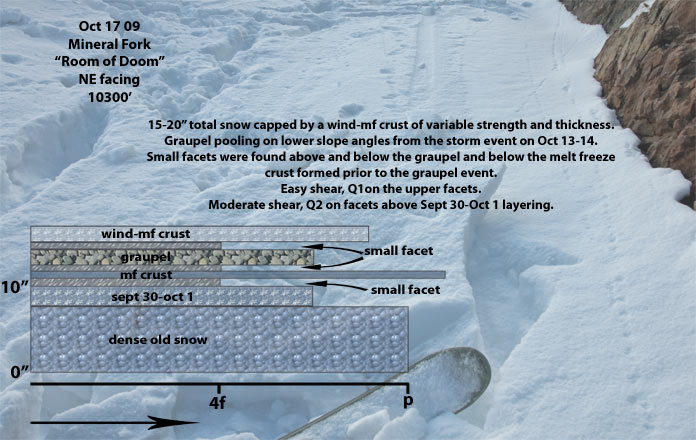 October 20
Rain to above 10k followed by a few flakes of snow. Shady upper elevations likely have a stout melt freeze crust overlying drier snow.
October 24
I walked up to the high shoulder on Sunset Peak from Brighton. Foot travel to the base, where I put on the little vert snow shoes.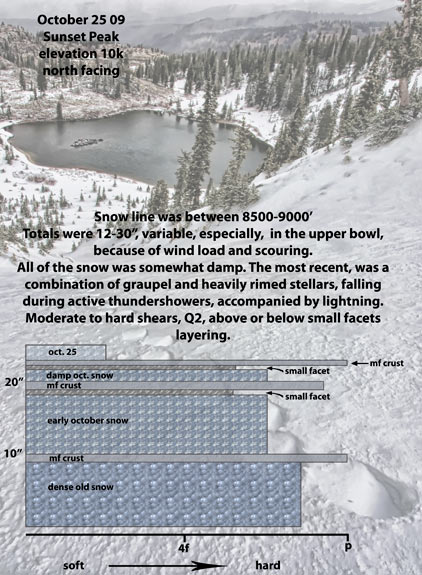 Overcast skies and mild temperatures during the early part of the day. An instability shower put down an inch or two of snow just prior to my ascent. Barely made it off the peak before another one, accompanied by thunder and lightening, added a pile of graupel. The snow was well behaved, with snow pit shear testing indicating a strong and stable snow pack. I'd expect instabilities from the forecast storm to be dependent on bonding of new snow to the old surface-near surface layering.
October 27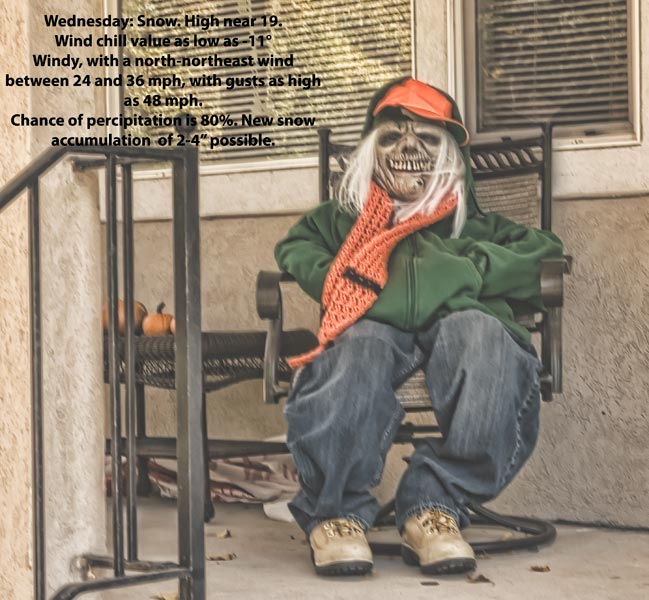 12" at Alta. The new snow will probably end up on top of the dirt, south facing. Weather guessers are suggesting a return to high pressure with, mild temperatures.
That should just about take care of it.
October 29
Upper Cardiff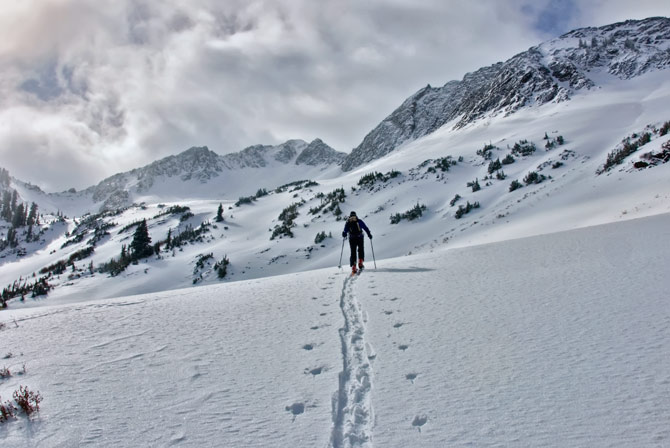 Snow line in Cardiff fork remains about 9k. The recent snow deposited 10" or so at the upper elevations with decreasing amounts at lower elevations. 4" at 7500'.
Wind from the ene did move some snow around but, the main result was denser snow in the top layers of storm snow. Bond between layers was good.
A stout melt freeze crust, under new snow, was found on all snow covered upper elevation slopes except for direct north facing at the highest elevations. Wind scouring limits skiability of starting zones in both Cardiac bowl and Cardiac ridge.
Instability in the near future would be wet activity from the forecast warming and isolated drifting from pesky wnw winds.
November 1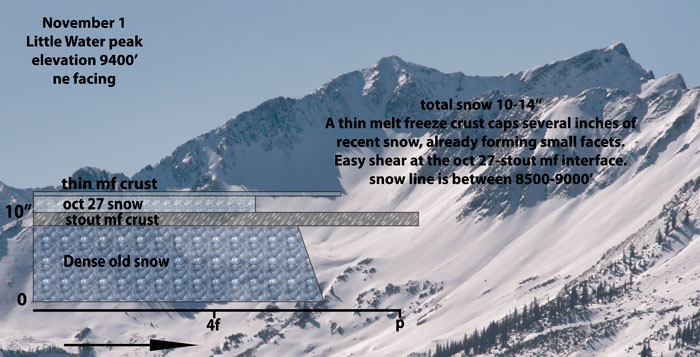 The Mill D north fork trail was frozen ground early in the day, muddy in the afternoon. I found 3 or 4" of snow as the trail approaching Dog Lake went shady. Dog Lake had a skin of ice, no idea how deep. Little Water peak north facing had suffered the effect of both the ne and the nw recent wind. The upper bowl was retaining snow, with gradually decreasing amounts into the upper Milcreek flats.
Snow was, of course, stable.
© wowasatch.com